PRP enhances the effects of collagen induction therapy, a.k.a. microneedling, for a dramatic improvement in skin tone and texture. 
Stimulate hair follicles and regrow hair at the brow line and on the back of the head using PRP—a more effective treatment than topical creams.
Knee & Shoulder PRP Injections
Treat knee or shoulder pain from mild to moderate arthritis with PRP for a more effective and lasting treatment than cortisone injections.
Cellular Therapy Treatments for Facial and Body Rejuvenation in Asheville, NC
Platelets help your blood to clot when you are injured, but they also play a key role in healing tissues because they contain what are called growth factors: Platelet Derived Growth Factor (PDGF) and Transforming Growth Factor-Beta (TGFß). The growth factors not only facilitate healing, but also help encourage skin and collagen regeneration.
At Mountain Radiance, we use platelet rich plasma (PRP) derived from your own blood to perform a number of treatments that harness this healing capacity.
How does platelet rich plasma (PRP) therapy work?
For your comfort during treatment, we numb the area where blood is drawn (usually the arm). If you are having PRP injections for joint pain, we also numb the area being injected; if you are undergoing microneedling or hair restoration, we numb the treatment area, as well.
Next, we drawn your blood, spin it in a centrifuge that is made to concentrate platelets, then either inject or apply the extracted PRP for your treatment. To extract the PRP for your treatment at Mountain Radiance, we use the most advanced platelet concentrating system: Harvest Terumo BCT, a system that concentrates platelets six times more than the next leading brand of equipment.
What are the benefits of Platelet Rich Plasma (PRP) Therapy?
The benefits of PRP are an improved healing process and skin regeneration. In practical terms, you may enjoy these benefits from the different PRP treatments we offer:
Treats mild to moderate arthritis of the knee or shoulder
Promotes regrowth of hair follicles
Stimulate collagen and new skin growth
PRP treatment is revolutionary in its capacity to heal skin, bone, and joint tissues. It works by harnessing the healing power of your own cells. This is why we call it "cellular therapy." 
Platelet Rich Plasma (PRP) Facial with Microneedling
If you have fine lines, wrinkles, or scars (such as acne scars), microneedling with platelet rich plasma (PRP) offers major results that rival those of CO2 laser skin resurfacing—but without the downtime. 
What are the benefits of Platelet Rich Plasma (PRP) Facial with Microneedling?
After a PRP facial with microneedling, you will see long-lasting improvements: a firmer skin texture, reduced appearance of fine lines, smoother wrinkles, better skin elasticity (tightness), healthier-looking skin tone, and diminished appearance of blemishes and scars.
Platelet Rich Plasma (PRP) Facial with Microneedling Before and After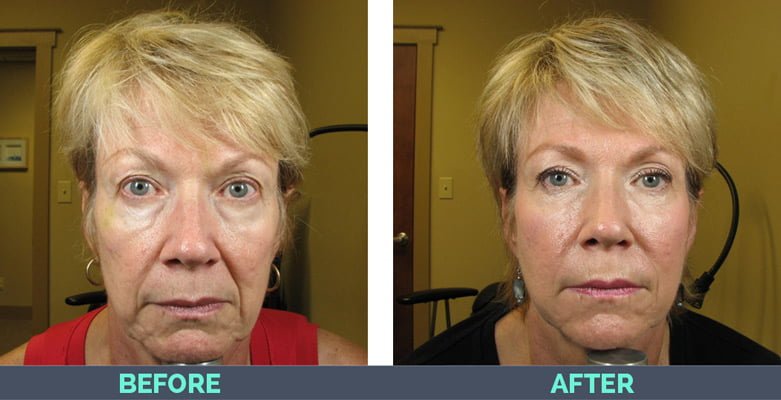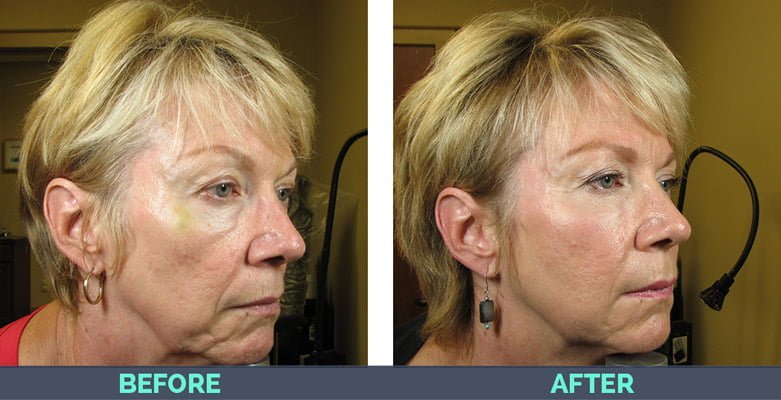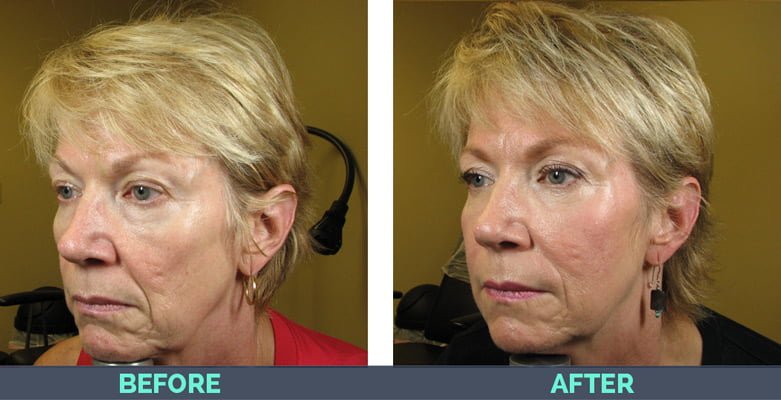 PRP microneedling for the face
Add +$300 to include neck and chest
Platelet Rich Plasma (PRP) Therapy for Hair Loss
Thinning hair is one of the most common cosmetic concerns, regardless of gender. Platelet rich plasma (PRP) therapy helps to increase the number of active hair follicles and thereby enhance hair growth. If you have an area of thinning hair, then this treatment will likely provide excellent results for you. (Unfortunately, PRP therapy does not work in areas where the scalp has lost all hair and the skin is shiny.)
What are the Benefits of Platelet Rich Plasma (PRP) Therapy for Hair Loss?
The benefits of PRP over other treatments include:
Treatments are performed in our office (no need for you to apply products at home, unless you are supplementing the treatment)
Completely natural treatment, using your own cells
We take measures to reduce your discomfort during treatment
At Mountain Radiance, we use local anesthetic to numb the scalp prior to treatment. Then, we apply the PRP by both injection and microneedling. For some patients, hair regrowth can be significant with PRP microneedling; however, results require patience. Results require at least 2 treatments and a wait of about 9 months before patients begin to see results. Also, PRP can can stimulate follicle regeneration in locations where the hair is thinning, but it will not regrow hair where the scalp is "shiny" with no hair follicles.
Platelet Rich Plasma (PRP) Therapy for Hair Loss- Before and After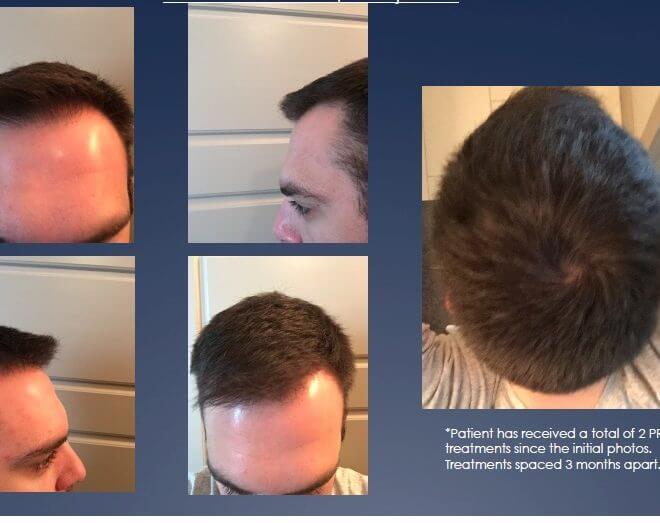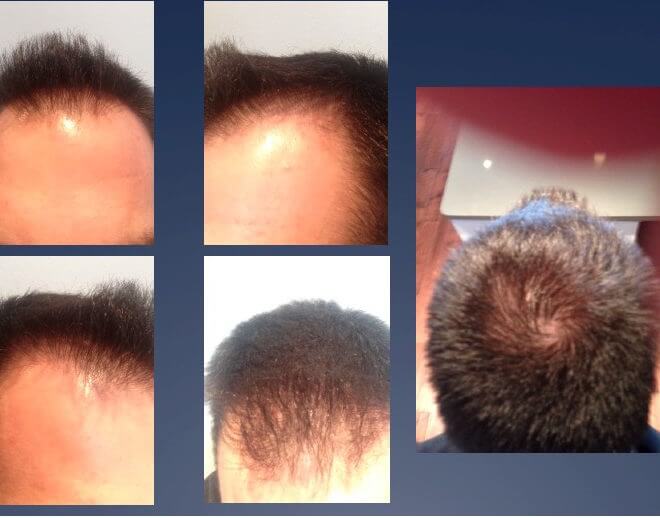 Knee & Shoulder Platelet Rich Plasma (PRP) Injections
For knee, shoulder, and minor tendon pain, platelet rich plasma (PRP) can provide relief that is longer lasting than cortisone. If you are considering surgery, such as arthroscopy, for knee pain, consider discussing your case with Mountain Radiance to see if PRP is right for you.
What are the benefits of Knee & Shoulder Platelet Rich Plasma (PRP) Injections?
PRP can provide longer lasting pain relief than cortisone injection. And it is natural; it uses your body's own healing power to repair the issues causing pain in the joint (rather than laboratory-prepared gels or cortisone). Note that cortisone can have a deleterious effect if used too often.
In our experience, the pain relief from PRP may last over a year. PRP may need to be re-performed periodically, but not as often as cortisone injection. Not everybody needs re-treatment, and sometimes the beneficial results are particularly long lasting. One scientific study found that PRP on average lasted 6 months, with some patients experiencing relief that lasted over a year.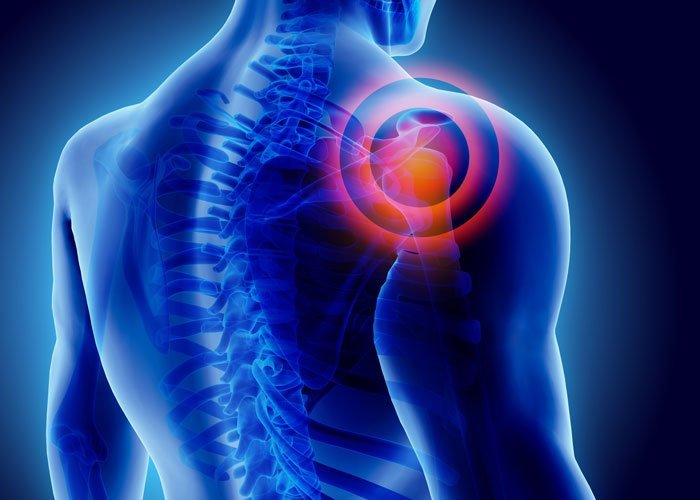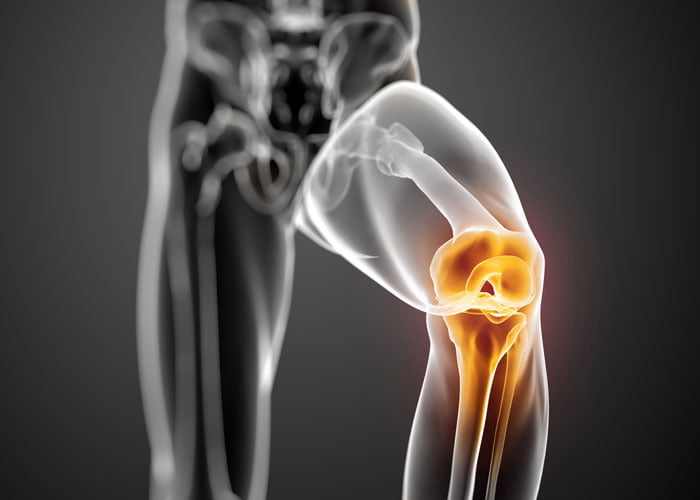 PRP single knee or shoulder
Both knees or shoulders: $2,200
PRP Facial with microneedling
This includes PRP processing, numbing medicine, & facial treatment
Schedule a Complimentary Consultation
Call our office at (828) 627-2711 or
Sign Up for Allē to Earn Points and Save

Allē—formerly called Brilliant Distinctions®—is a free loyalty program that allows you to earn points and save on various Allergan brand products and treatments, including Botox, Latisse, Juvéderm and Natrelle. Members also receive notifications for special offers or events related to their selected interests.