Juvederm, Volbella, Vollure and Voluma Fillers in Asheville NC
What are Dermal Fillers, and what is Juvederm?
Juvederm Ultra Plus XC is one of the finest fillers for facial structures. It is smooth and nearly painless (in our hands) to inject with the "atraumatic cannula technique" that Dr. Zacher uses. Juvederm along with the other fillers from Allergan are made of hyaluronic acid (HA), a colorless smooth gel that is normally and naturally present in the human body. It is not an acid in the traditional sense we think of it, this is simply part of the chemical structure.
HA has many uses: it has been used for injections into arthritic joints in humans and animals for many years (some brand names are Synvisc and Hyalgan). HA can be formulated in different ways, the Allergan company (that also makes Botox and Kybella) has perfected techniques to create different consistencies for different duration and uses.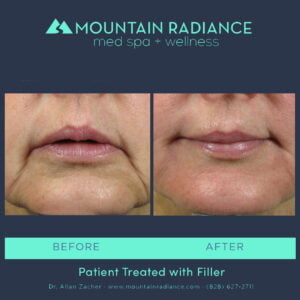 Juvederm Ultra Plus XC is formulated specifically to be used around the mouth and the folds that make parentheses around the mouth and sometimes deep grooves between the nose and the corner of the mouth.
The results can be seen instantly following the injection of this and all the fillers; very little change will occur over the days following the injections. This is unlike Botox with which one must have patience for about two weeks to see the results.
Some changes - Dr. Zacher's injection technique has LESS bruising but there still may be some bruising. So if there is bruising, sometimes it develops overnight. Also usually there is some minor swelling with the injection sites, this will also resolve over 24 - 48 hours.
Good advice to take prior to this treatment are to try to avoid aspirin and all anti-inflammatory medications such as ibuprofen, Aleve, Naprosyn. Tylenol IS ok though.
What are the benefits of Juvederm dermal fillers?
What is Juvederm Ultra Plus XC?
Juvederm Ultra was the first filler created by Allergan and is still useful. It is a bit thinner than Ultra Plus and is still used in the lips, giving them a more soft, sensuous texture than Ultra Plus. Juvederm Ultra is said to last about 9 months, although results are variable.
Juvederm Ultra Plus XC has the two following advantages over the "plain" Ultra, namely it is said to last longer, 12 months. It is slightly firmer than plain Ultra.
The XC in any of the fillers means it is mixed with a small amount of lidocaine to make the injection virtually painless.
What is Juvederm Voluma XC?
Juvederm Voluma XC (usually referred to as simply, "Voluma") is a newer product for which Allergan uses the "Vycross" technology which refers to how the molecules of the filler are "crosslinked".
This technology gives the material a "spongier" more natural feel and is less likely to adsorb water from the surrounding tissues, meaning that the filler, once placed will not continue to increase in size.
Voluma is used usually to increase the cheeks, lifting the lower parts of the face subtly. Dr. Zacher also uses it to enhance the "tear troughs".
A deep tear trough under the eye can cause early signs of aging by shadowing either circles under the eye or creating a diagonal line under the upper cheek. Clients with deep troughs often complain that they look older than they really are or tired all the time.
Correcting tear troughs with Voluma or Juvederm Ultra Plus gives superlative results, improving the appearance and lasts about a year.
What is Juvederm Volbella XC?
Juvederm Volbella XC, or simply "Volbella" is the ultimate lip enhancement treatment. It is requested by young women who would like fuller, more sensuous lips as well as older women who would like reversal of age related changes. Dr. Zacher has an excellent reputation for using this product "just right". He is aware people are "scared" of having the lips "overdone". His clients have excellent, subtle results.
Volbella again uses Vycross technology to create a filler which has been especially formulated to enhance the lips. Volbella and Juvederm can make amazing improvements in the loss of volume of lips that can come with aging - additionally can reduce or eliminate the vertical "cigarette" or we prefer the phrase "kissing" lines that clients can get over (or under) the lips.
I have met women who said their mother told them never to suck on a straw because this will cause the lines over the lips. While this may be true, most people do develop these lines with age.
The vertical lines over the lips (perioral rhytids is the medical term) are caused primarily by the aging process but sun damage is a more common cause - as always, we recommend to ALWAYS avoid sun damage!
The Allergan Juvederm brand of fillers are all made of hyaluronic acid, a smooth, colorless gel. This gel increases the volume in the tissues under wrinkles and folds of skin, smoothing them.
Juvederm Before and After Results
The key to "getting it right" is to create subtle changes so that the client looks natural and relaxed. The improved appearance should not be overtly noticeable, rather should be an improvement, not so much a change.
How Much Does Juvederm Cost Per Unit? Plus | Voluma | Volbella
The key element to treating with fillers is NOT to "over do it". At Mountain Radiance we have seen clients from other providers (frequently in other states) who have apparently "sold" the client on getting too much material.
To a certain extent over filled areas can be treated with an enzyme called hyaluronidase which specifically, smoothly and efficiently dissolves some of the filler. We do provide this corrective technology at Mountain Radiance.
When choosing a provider to treat you with filler you always want an experienced and knowledgeable practitioner who is attentive to your needs and desires.
How Long Does Juvederm Take to Work?
All of the fillers provide nearly instant results. There will be only minor changes in the days following the treatment.
How Long Does Juvederm Last?
Allergan, the manufacturer of these fillers makes the following statements about the longevity of the products: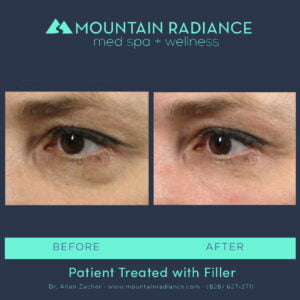 Juvederm Ultra lasts 9 months
Juvederm Ultra Plus lasts 1 year
Voluma lasts 2 years
Volbella lasts 2 years
My observation is that these durations are variable. Some people I've treated with Juvederm are still happy at 1 year and some I have treated with Voluma need further enhancement in about 1 year or even less. The variability probably has more to do with the individual patient, as some people may simply require more frequent enhancements.
Juvederm and Restylane are both compositions of hyaluronic acid, Dr. Zacher feels the Allergan (Juvederm) products are smoother and take advantage of the patented Vycross technology, providing a variety of injectables that are appropriate for different applications (lips, cheeks, nasolabial folds) and therefore gives us better control of the outcome.
The best way to understand this is that Botox is a medication that takes approximately two weeks to fully take effect by relaxing the muscles that cause active wrinkles. It is most commonly used from "the eyes up"
Juvederm is a filler, a gel that is not a medication but a volumizer used to fill areas to smooth them. Generally used on the lower part of the face: "from the eyes, down"
Treatment with Juvederm and Botox can be performed on the same visit
Juvederm, hyaluronic acid, is extraordinarily safe. Adverse effects, such as allergic reaction is possible but extremely rare (but not impossible). Since HA is normally present in the human body, adding more should not cause a reaction or problem.
Having said this, complications can occur with ANY medical treatment
Juvederm has no side effects in the standard sense of the word for medications. However, temporary effects from the treatment (injection) process can include pain at the injection site, bruising, overfill in areas, and swelling from the injection process.
Why Our Customers Love Us
Schedule a Free Consultation
Call our office at (828) 538-2425
or
Sign Up for A Brilliant Distinction Membership to Earn Points and Save

The Brilliant Distinctions program is a free membership where you can earn points to save money on various Allergan brand products.  Some Allergan products are Botox, Latisse, Juvederm and Natrelle.  Members also receive notifications for special offers or events related to their selected interests.