Chemical Peels in Asheville, NC
Ready to upgrade your complexion? If you are struggling with fine lines, dullness, pigment irregularities, or acne scarring, the skin experts at Mountain Radiance offer a chemical peel formulated for your concerns. Performed in our Asheville office, this non-invasive procedure requires little-to-no downtime to give you your best skin ever. Here's how.
What is a chemical peel?
A chemical peel uses concentrated peeling ingredients to gently exfoliate your outermost layer of skin to reveal fresh, healthy skin underneath. By promoting healthy cell turnover, a chemical peel creates more bright and even-looking skin and encourages your skin to produce more collagen, making your results long-lasting.
Ingredients often found in chemical peels include alpha hydroxy acid (AHA) like glycolic and lactic acid, trichloroacetic acid (TCA), and beta hydroxy acids (BHA) like salicylic acid. We offer a number of chemical peel options to suit your needs, and we can safely offer peels to all skin types and tones.
Where should I get a chemical peel?
The chemical peels we offer at Mountain Radiance should only be performed by either a physician or an aesthetician working under a physician's supervision, i.e. at our medical spa in Asheville. Peels contain strong formulas, and misuse by unqualified providers can damage your skin.
At-home skincare products or "peels" may use some of the same ingredients as professional chemical peels, but they are not available in the concentrations we use here in our office. Plus, our chemical peel formulas are formulated by the experts at SkinMedica® to give maximal effects with minimal irritation.
Why choose a chemical peel?
A chemical peel may be an ideal, little-to-no downtime solution for a number of concerns you have with your skin:
Brightens and evens a dull skin tone
Minimizes fine lines and wrinkles
Smooths a rough skin texture
Softens acne scars
Minimizes enlarged pores
Clears blemishes
Corrects uneven skin tone
As with any treatment that improves your skin through exfoliation, repeat treatments on a regular basis will give you ever-improving results! Consider scheduling a series of chemical peels to optimize your results.
SkinMedica® Chemical Peels in Asheville
At Mountain Radiance, we offer 3 medical-grade chemical peels by SkinMedica. These peels are only available from a skincare professional at a medical office:
Illuminize Peel®
If you are looking for radiant skin, the Illuminize Peel is perfect for a complexion pick-me-up. We will recommend Illuminize for most mild skin imperfections, such as dull tone, rough texture, and mild wrinkles or fine lines. This peel is perfect for your first chemical peel, as well, as results are visible very quickly and you are unlikely to have visible flaking skin after treatment.
To maximize your results, Illuminize Peel can be repeated after 2 weeks.
Vitalize Peel®
Irregularities in your skin's pigment—from acne scars, sun damage, hyperpigmentation, or melasma—are no match for the Vitalize Peel. Not only does it even the tone of your skin, it improves the appearance of fine lines and wrinkles, so this multi-tasking peel is excellent for many mild to moderate complexion frustrations.
Vitalize Peel may be repeated every 3-4 weeks for optimized results.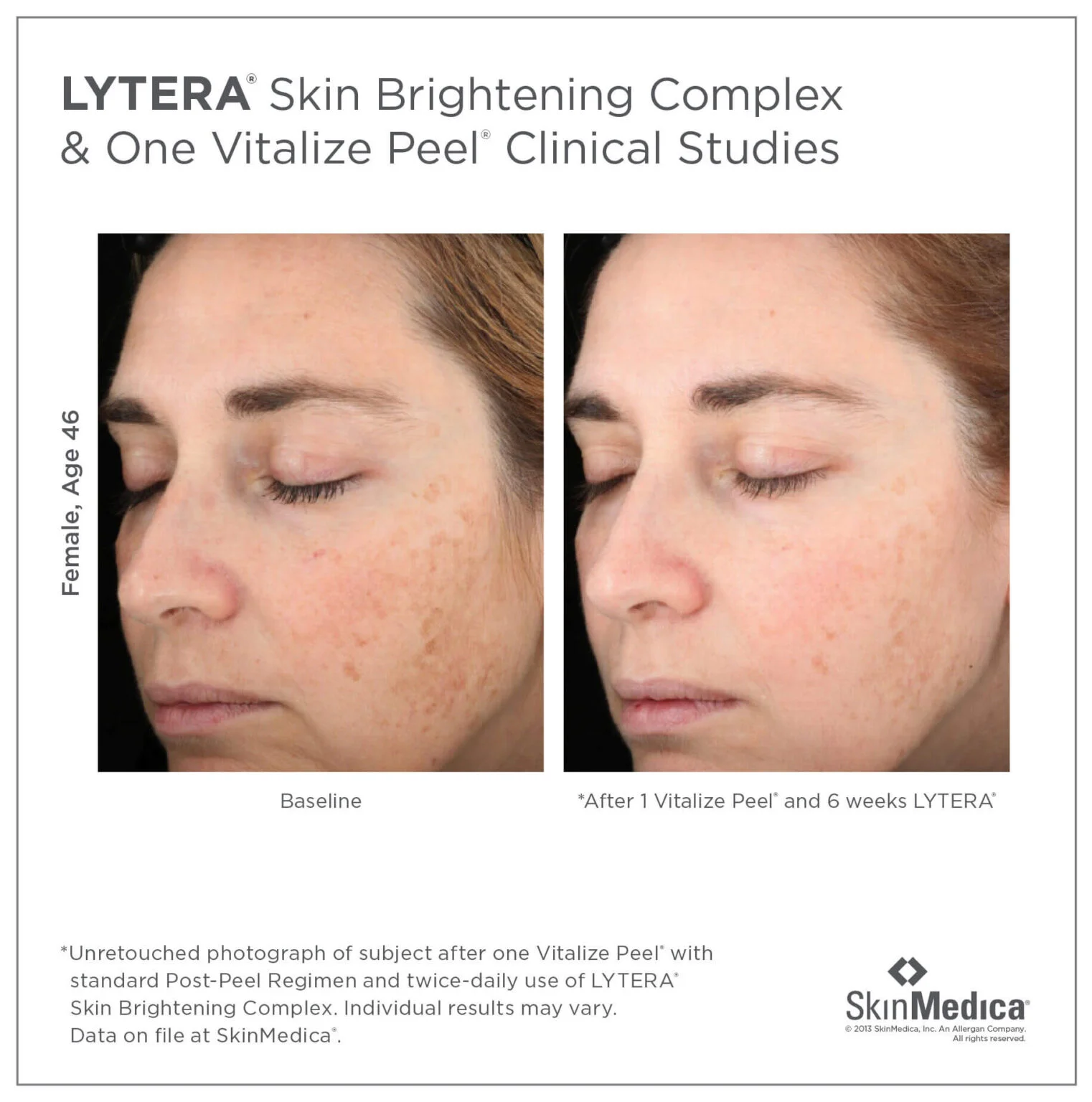 Rejuvenize Peel™
If you have advanced fine lines and wrinkles, the Rejuvenize Peel is made for you. It is a stronger peel than Vitalize, but with similar ingredients, and thus it can also offer a potent treatment for pigmentary irregularities, like melasma or discolored scars, as well.
If your goal is a reduction in fine lines and wrinkles, we encourage you to plan a series of treatments. A series of 3 to 6 Rejuvenize Peels offers a truly noticeable (yet elegant-looking) improvement in your skin's texture and tightness. Note that darker skin tones (Fitzpatrick skin types V-VI) need to grow tolerant to a less intense peel, such as Illuminize or Vitalize, under a provider's guidance before trying Rejuvenize peel.
Rejuvenize Peel can be repeated every 4-6 weeks.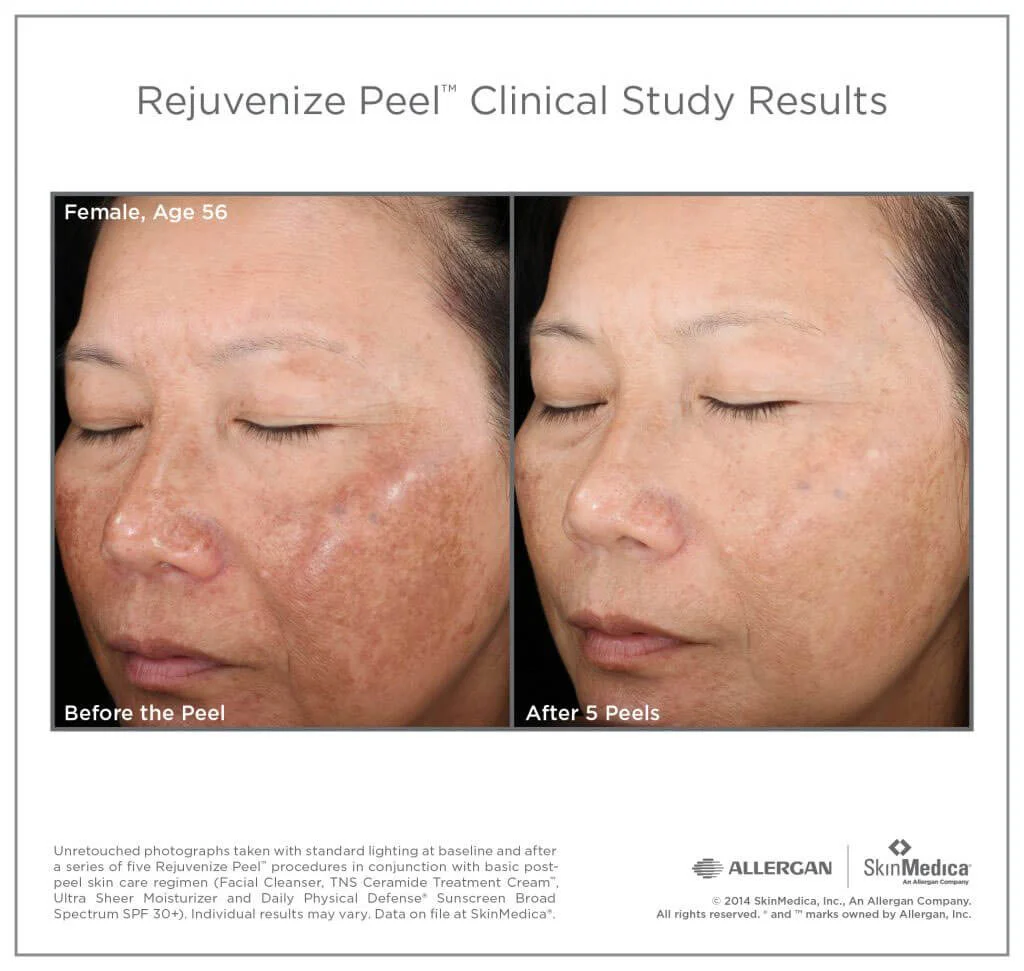 How should I prepare for a chemical peel?
To prepare for your chemical peel, stop using retinol and products that contain chemical exfoliants 1 week before treatment. Avoid excessive sun exposure, and protect your skin with sunscreen. Talk to your provider about other topical acne treatments you use, and be sure to tell them about any medications you take on a regular basis. You will also need to wait a week after any laser hair removal/electrolysis, waxing, or depilatory creams before undergoing a chemical peel.
What is a chemical peel treatment like?
When you come to our office for a chemical peel, you'll relax in a reclined position for the duration of your treatment (similar to a facial). We apply the solution in 2-3 steps onto your skin. During treatment, you may experience some itching, burning, or tingling, but chemical peels are not usually painful or uncomfortable. After we've applied the solution, we'll apply sunscreen to protect your skin. You will need to wait until the evening to wash the solution off your face.
What should I expect from chemical peel side effects and recovery?
After your peel, moisturize your skin and wear a high-quality sunscreen at all times (even if it's cloudy!) to protect your vulnerable skin. If you have a light skin tone, you may see some redness for the first day or two after your chemical peel.
With the Vitalize and Rejuvenize Peels, you are likely to experience some peeling or flaking for a few days after treatment (usually 2-5 days). Do not pick at the flaking skin—just keep it moisturized and let it peel at its own pace. Trying to remove dead skin before it's ready will irritate your skin and could result in post-inflammatory hyperpigmentation, in which areas of uneven pigmentation develop.
How long does it take to see results from a chemical peel?
As soon as any redness and/or peeling subsides, you will begin to see a renewed glow and a general improvement to your skin. Results will continually improve over time, as it can take up to 3 months for new collagen to develop.
Can I combine other treatments or packages with a chemical peels?
Yes! You can boost the results of a chemical peel with some of the other spa treatments at our Asheville, North Carolina location, including microneedling, laser skin rejuvenation, and specialty facials. A Hydrafacial is great facial option to prime the skin before a chemical peel as well.
Schedule your treatment at Mountain Radiance
To learn what chemical peels can do for you, schedule your consultation today with our Asheville complexion experts for personalized, caring aesthetic services. You can reach us by phone at (828) 627-2711 or contact us online. We can't wait to help you get your best skin ever!
Area Served:
Now offering Cherry Payment Plans!
Invest in your confidence today & pay over time with Cherry.
Schedule a Free Consultation
Call our Asheville office or book an appointment online!