Most laser hair removal treatments can be performed between 15 – 45 minutes. The smaller the area, the less time your treatment will take. Large areas (like the full back or legs) take around 45 minutes.
Our experienced, licensed technologist performs all treatments in our well-equipped laser treatment room. We use a highly precise laser that targets hair follicles, leaving the skin unharmed.
After completing laser hair removal treatment, patients enjoy smooth, stubble-free skin texture. A full treatment cycle typically requires 4-6 treatments to fully address all hair follicles.
Fast and Effective Laser Hair Removal in Asheville, NC
Thanks to advanced, precision laser technology, there is no need to live with unwanted hair. At Mountain Radiance in Asheville, you can ditch your razors and quit waxing for good with 4-6 sessions of laser hair removal (LHR) with our licensed medical technologist.
What is Laser Hair Removal?
Laser hair removal (LHR) uses a precisely-calibrated laser (intense pulsed diode laser) to inactivate hair follicles below the skin, effectively stopping hair growth in the desired area. Since different hair follicles are in active growth phases at different times, 4-6 laser hair removal treatments are typically necessary to destroy all hair follicles in an area of the body. 
What are the benefits of laser hair removal?
The benefits of laser hair removal include:
Less discomfort than waxing.
You will save time shaving or waxing.
It eliminates the need to pay for razors or professional waxing.
You will enjoy smooth, stubble-free skin.
How does laser hair removal work?
Laser hair removal works by targeting the hair follicles that lie below the surface of the skin (as shown in this illustration).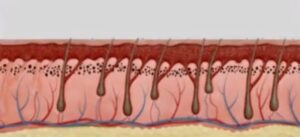 LHR uses an intense pulsed laser to pass light through the skin and heat up the hair follicle at the root where the hair is generated. This inactivates or "kills" the hair-producing part of the follicle.
The key to effective and painless treatment is to use the most advanced, precise laser equipment. At Mountain Radiance, we use the Lumenis LightSheer laser with ChillTip Technology.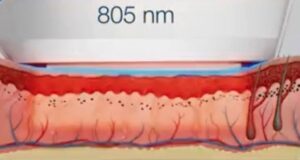 Our Lumenis LightSheer has an artificial sapphire tip that is liquid cooled (the ChillTip technology). This helps to make the treatment painless; in more sensitive areas, we also use a numbing cream.
During your treatment, the tip of the laser handpiece is applied to your skin and pressed slightly. We fire the laser, it delivers a pulse, and the light energy is absorbed by the hair follicles, heating them to the point of "inactivating" or "killing" them.
Different areas require different numbers of treatments: underarms frequently will be nearly completely hairless following 2 – 3 treatments, while areas like the lower legs and bikini area usually require 4 – 6 treatments.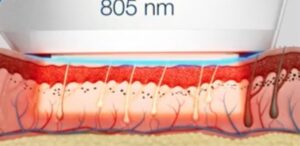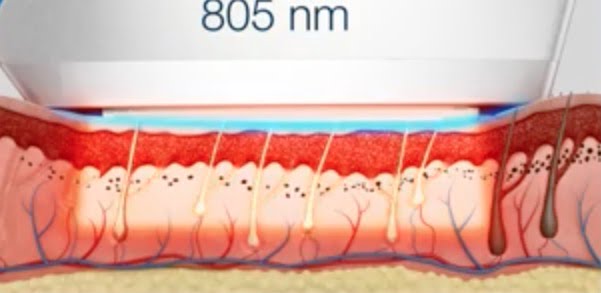 Multiple treatments are required because, in one treatment session, only the follicles in the active growth phase (about 25% of them at any given time) are deactivated. It takes 4 – 6 weeks to rotate the actively growing follicles, so we recommend waiting that amount of time before returning for repeat treatment.
Sometimes a touch-up is required about a year after completion of your initial appointments. Laser hair removal is not 100% permanent; some follicles may come back over time, but they usually only require a touch-up treatment when they do.
Does laser hair removal hurt?
With every light pulse, there is a sensation that has been described as a rubber band snapping on the skin. The ChillTip technology can help alleviate the sensation, and most patients tolerate the procedure very well. We can also prescribe a numbing cream to dull more sensitive areas.
Laser Hair Removal Before and After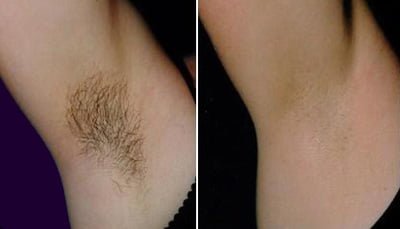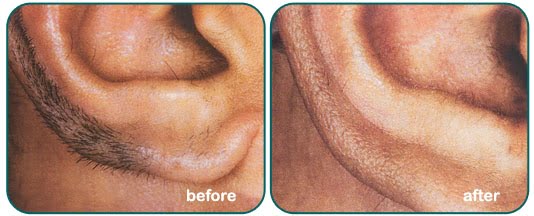 How Much Does Laser Hair Removal in Asheville Cost?
The cost of laser hair removal varies depending on the treatment area:
For small areas, like the upper lip or chin, the cost begins around $75 per session.
For the bikini line or expanded bikini line, the cost ranges from $125-225.
For larger areas, such as the full legs or a full Brazilian, the cost is about $300.
Note that these prices are for a single laser hair removal session; most (though not all) areas require 4-6 treatments for full hair removal. At Mountain Radiance, we offer discounts if you are having multiple areas treated (we discount the smaller area).
We also offer a package discount for multiple treatments. When you buy a package of 3 treatments, you'll receive 20% off! Still, if you wish to try a single treatment before committing to a package, we encourage this.
How many laser hair removal treatments are needed?
Usually 4 – 6 treatments are needed for full hair removal. Each treatment should be spaced about 4 to 6 weeks apart. 
Is laser hair removal permanent?
Laser hair removal is not completely permanent, though the results are certainly lasting. Some of the hair follicles will, in all likelihood, never come back. However, some of the follicles may come back over time, and it is not unusual for our clients to need a touch up about once a year.
What body areas can laser hair removal treat?
Almost any area of the body can be treated with laser hair removal. Areas we frequently treat include the underarms, bikini area, legs, back, upper lip, and chin.
Is down time required after laser hair removal?
No, there is no downtime required after laser hair removal. You can immediately return to your normal routine.
Are there any side effects of laser hair removal?
There are no negative side effects after laser hair removal; however, it is critical that you carefully avoid sun exposure and tanning beds before and after laser hair removal treatment. Since laser hair removal targets chromophores, which produce melanin and tan the skin, these can be damaged if exposed to the sun.
Avoid tanning for a minimum of 2 weeks before and 2 weeks after laser hair removal treatment. (It's a good idea not to plan laser hair removal within weeks before or after a beach vacation or a cruise!)
Electrolysis vs. Laser Hair Removal
Electrolysis is a tedious and painful hair removal process that and requires many visits over time. It is also much more expensive than laser hair removal, since each individual hair follicle must be "electrolysed" in this treatment.
Laser hair removal, by contrast, is painless in our hands. We are also able to cover large areas in a short period of time. While multiple visits are required to achieve complete treatment, laser hair removal will not require as many as electrolysis.
Important Safety Information about Laser Hair Removal
Possible side effects include redness or "blotchiness" that persists for a day or so in the area(s) treated. Very rarely, we have had a client complain about slight itching in the treated area for a day or so.
Take a Virtual Tour of our Office
Sign Up for Allē to Earn Points and Save

Allē—formerly called Brilliant Distinctions®—is a free loyalty program that allows you to earn points and save on various Allergan brand products and treatments, including Botox, Latisse, Juvéderm and Natrelle. Members also receive notifications for special offers or events related to their selected interests.