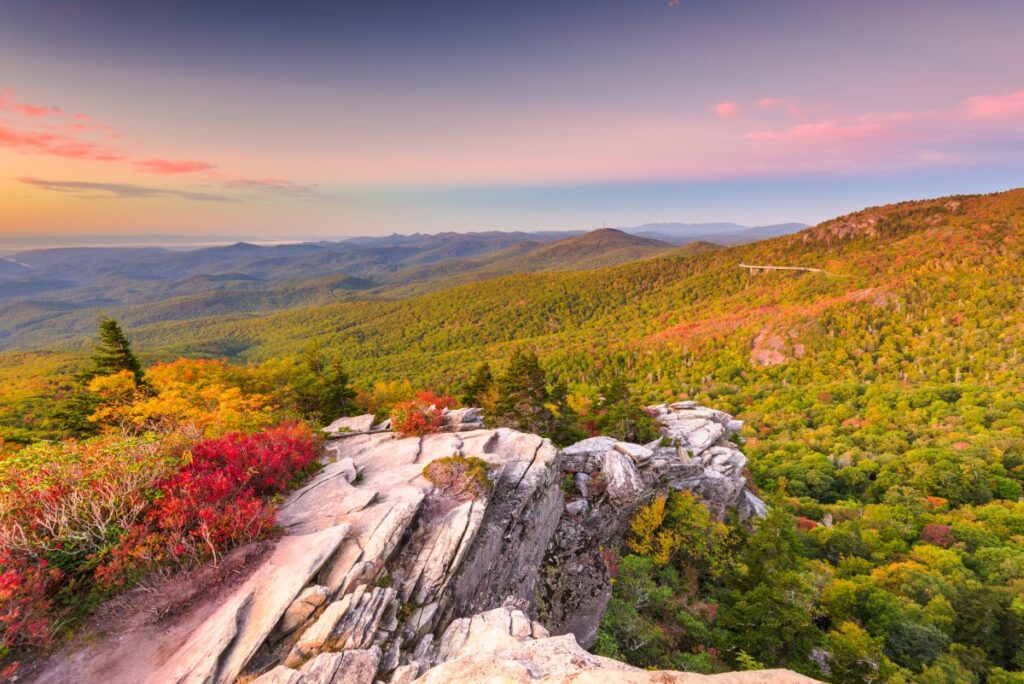 Every year, thousands of tourists flock to Asheville to see the fall colors. Due to our varied mountain terrain, we enjoy one of the longest and most vibrant foliage displays in the nation. Leaf season is in full swing here with the highest elevations having already hit their peak, and it won't be long before the same colors can be seen surrounding downtown.
So, grab a friend and don't miss this annual opportunity to soak in another gorgeous fall in Western North Carolina. Our Blue Ridge Mountain overlooks and trails offer a special experience year-round, but are even more spectacular and iconic in the fall. We promise you won't be disappointed!
Know Before You Go
First, a few tips for Leaf-Peeping this fall:
Keep reasonable expectations. Despite popular belief, there is no single peak time for fall color in the overall mountain area, although as a general rule the 3rd and 4th weeks of October have the most reliable color. The development of fall color is largely dependent on elevation, which varies across all parts of the city and county—from 6,000 feet at the highest peaks, to just over 2,000 feet in downtown, as well as the frequency of rain and frosts during that time. It also depends on the concentration of the types of trees found in each area (for example, maples, sourwoods, and dogwoods are the ones that give the most reds). This interactive fall color map can guide you to the best spots!
Use caution. Watch for black bears, deer, and elk, as well as excited (and distracted) color-hunters, cyclists, bikers and photographers who may be in pursuit of their next great shot. Also make sure to stay on the designated trails and do not cross into areas where you are not allowed so that the sensitive plant life and biodiversity of our area can remain protected.
Be prepared. Fall weather can be unpredictable. Make sure to check the forecast in advance, and bring a wind- and water-proof jacket regardless. You never know when a pop-up shower can come through; this is a temperate rainforest after all! Also bring layers! The temps at higher elevations can be up to 20 degrees cooler than downtown Asheville. A hat and gloves can go a long way in preserving your body heat. Download any maps you need as well; you may lose cellular service in certain areas.
Be flexible. If you plan to take photos, try going out just before sunset and just after sunrise to capture wonderful light conditions that enhance the colors naturally. Bonus: the crowds will be less at these times too! Also, don't let a rainy, damp or overcast day deter you. The leaves will look even more amazing against a moody, foggy background!
Parkway Favorites
The Blue Ridge Parkway is a national treasure. At this time of year, the roadway will almost always be crowded with fellow color-chasers so keep these tips in mind to ensure a safe and fun experience for all.
Traffic may get heavy in areas, especially around the popular overlooks, so practice defensive driving and good signaling. Also make sure to remain patient and allow extra time if you get "stuck" behind a chain of cars or a particularly slow tourist or who is not used to the winding roads, blind turns, wildlife sightings or the epic scenery.
Cellular service can be spotty, so it's best to navigate your route with offline maps and via milepost markers.
Make sure to check with the National Park Service (NPS) website before heading out. It's not uncommon for stretches to close due to rockslides or ice.
Black Balsam Knob
Hike around Black Balsam via the Art Loeb or Sam Knob Trails for a moderately short family-friendly hike.
Location: Milepost 420
Graveyard Fields
One of the most popular and interesting hikes near Asheville because it contains such variety—everything from single-track trails to boardwalks to stunning waterfalls!
Location: Milepost 418.8
Mount Pisgah
This is a moderate 2.6 mile out and back with a 750-foot elevation gain which summits at an amazing observation deck.
Location: Milepost 407.6
Craggy Pinnacle
One of the shortest but most epic hikes in the area, boasting 360 degree views. At only about 1.4 miles round trip, it is perfect for a sunset picnic or scrambling on rock outcroppings for that perfect photo.
Location: Milepost 364.1
Parks & Gardens
We're lucky to have beautiful private attractions in our area. Make sure to research the ins and outs of these destinations ahead of time to learn about admission and entrance fees, parking restrictions, and other key visitor information.
Biltmore Estate
If you're looking for the FULL luxury fall experience, head to the Biltmore Estate. Here you'll experience wine tasting, fine dining, cozy inns, and fascinating historical buildings. The best part? Biltmore has over 22-miles of trails and gardens!
Location: 1 Lodge Street
Botanical Gardens
If you are seeking a peaceful, leisurely stroll with no crowds only minutes from downtown, look no further than the Botanical Gardens at Asheville.
Location: 151 W.T. Weaver Blvd
The North Carolina Arboretum
Filled with acres of beautiful trails and manicured gardens, you'll love the sights at the NC Arboretum. Don't forget to check out their bistro cafe for a cozy hot-chocolate, an afternoon glass of wine, or a delicious locally-sourced salad, sandwich, or snack.
Location: 100 Frederick Law Olmsted Way
Off the Beaten Path
DuPont State Forest
This area boasts four epic waterfalls set against the backdrop of beautiful fall colors: High Falls, Triple Falls, Hooker Falls and Bridal Veil Falls. You can visit the quaint downtown of Hendersonville afterwards and enjoy shopping, dining and breweries.
Location: Staton Rd, Cedar Mountain NC
Bearwallow Mountain
Bearwallow Mountain is an easy trail that leads to a mountain-top pasture filled with free-range cows and 180 degree views along the Eastern Continental Divide. Afterward, head into the town of Chimney Rock and Lake Lure to continue your day of fun!
Location: 4854 Bearwallow Mountain Rd.
Max Patch
If you don't mind a longer drive, Max Patch is your go-to for 360 views along the Appalachian Trail. It's great for a romantic picnic, flying a kite, and on a busy day—people watching! Hit up Hot Springs on the way back for a relaxing hot tub soak.
Location: Max Patch Road
Where are your favorite local spots to see the fall foliage? We want to know!
Mother Earth shows us her best in fall—and you can too!
Mountain Radiance is a full-service medical spa in Asheville, North Carolina. Dr. Mark Chandler and his team of aesthetic experts provide results that enhance your natural beauty, and are customized just for you. We offer proven, cutting-edge treatment and technology, from lasers to massage therapy to pharmaceutical-grade injectables to help you feel confident and beautiful. Schedule your personal consultation by calling our office at (828) 622-4511 or contacting us online today.