#1 Age Reversal Technique
The average treatment time is 10 – 15 minutes. Since Mountain Radiance is conveniently located near downtown Asheville, many clients have their injections on their lunch break (or even coffee break).
With over 4 million Botox injections performed per year in the United States, Botox has an extremely low rate of complications. While complications with cosmetic Botox are possible, they are extremely rare.
When the treatment is performed by an experienced injector, Botox offers reliable results that are significant, but subtle. Patients often point out how natural their results look after Botox at Mountain Radiance.
Botox in Asheville, NC
What is Botox?
Botox® is a purified form of botulinum toxin type A, a toxin produced by the bacteria Clostridium botulinum. Botox is a purified form of this neurotoxin (or neuromodulator) used in clinical settings.
There are 4 different brand names under which related neuromodulators are sold for cosmetic enhancement: Botox Cosmetic, Dysport, Xeomin, and Jeuveau. At Mountain Radiance we use Botox Cosmetic, as it has been the most studied and has the most indications of all of the neuromodulators. It has been the industry leader for decades and is the most trusted and reliable choice for neuromodulators.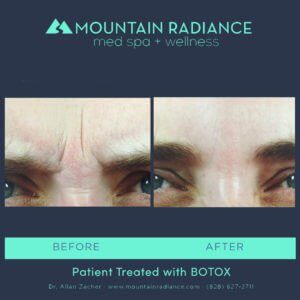 To see see more before and after photos, please visit our gallery.
What are the benefits of Botox?
Botox can be used to treat dynamic wrinkles caused by repeated muscle movements in the face. When injected into your muscle, Botox blocks nerve signals to the muscle, thereby stopping it from contracting and forming wrinkles. Botox can also be used to treat other conditions such as hyperhidrosis, temporomandibular joint dysfunction, and chronic migraines.The effects of Botox can last for 3 months or more, depending on the dosing,  the individual and the areas treated.
At Mountain Radiance we use Botox to treat wrinkles in the following areas:
The forehead (frontalis muscle)
Between the eyebrows (glabellar area, or glabella)
At the top of the nose (bunny lines)
The wrinkles at the outer corners of the eyes ("crows feet" or periorbital rhytids)
The vertical lines above the upper lip (Note that treating this area may require dermal filler, such as Volbella, as well)
We can also treat the following areas with Botox:
Overactive or enlarged masseter muscles (implicated in TMJD)
Showing too much of the upper gum area when smiling (gummy smile)
Platysmal banding (persistent vertical neck lines)
Lip flip (to subtly enhance the lips, or in addition to lip filler)
Nefertiti lift (to enhance the jawline)
The effects last for 3 months or more.
Because of the strength of this injectable and the complexity of facial musculature, it is critical to choose a highly-qualified, experienced medical provider for your Botox treatment. Injectors must have a detailed anatomical understanding of facial muscles, and how they interact. In the hands of an unqualified provider, patients may experience Botox that migrates to unwanted areas—this can lead to droopy eyelids, for example. At Mountain Radiance, your Botox treatment will always be performed by either a medical doctor or a nurse injector with extensive training and proven results.
Frequently Asked Questions about Asheville BOTOX Treatments
How Long Does Botox Take to Work?
While some improvement in wrinkles can be seen as early as 4-5 days after your injections, it takes 2-3 weeks for Botox to take full effect. We have observed that in 2 weeks, the Botox is about 85% effective, and by the end of 3 weeks, it has had its full effect.
How Long Does Botox Last?
In general, the positive effects of Botox last about 3-4 months. While the effects often do last 6 months or longer, it's important to have treatment repeated approximately every 3 months to keep the wrinkles at bay.
After someone has been getting Botox on a regular basis for 2 to 3 years, we can often space out their visits and cut back on the dose; this is because with regular maintenance, the muscles become progressively weaker, so that it takes less Botox to achieve the beneficial effects and takes longer for the Botox to wear off.
Difference Between Botox and Fillers?
Botox is a medication that is injected into the facial muscles; it takes 2 – 3 weeks to work and lasts about 3 months. Fillers, like Juvederm, Voluma, Vollure, and Volbella, are clear gels that are inserted beneath the skin to replace lost volume or enhance features; the effect of these is immediately visible and can last up to 1 or 2 years. Typically a treatment will filler will cost more than a treatment with Botox.
Some of our clients who receive Botox for cosmetic purposes do report a reduction or (rarely) elimination of headaches. However, our expert injectors have been trained to practice cosmetic treatment with Botox, and have not been trained to use Botox to treat headaches. Therefore, we do not offer Botox treatment for headaches or chronic migraines.
Should someone want treatments for headaches, which would be billed to insurance, we recommend contacting Asheville Neurology Specialists, as their doctors specialize in headaches and other neurologic conditions.
Can You Workout After Botox?
Wait 4 hours after Botox treatment for light workouts (i.e. light treadmill or a walk). Patients should wait 24 hours before resuming heavy workouts, unusual body positions (i.e. yoga positions), and hot yoga.
How Much Does Botox Cost Per Unit?
The overall cost of Botox varies widely from patient to patient: Botox cost is calculated per unit, and each patient has unique concerns that require a customized number of Botox units to treat.
Factor that influence the cost of your Botox treatment include your age and the strength of your muscles. Treatment of just the forehead can start as low as $100. The average price for forehead and glabellar complex (angry lines between the eyebrows) runs about $375 per treatment, but again this can vary. In rare cases, some clients need as many as 70 units, which may cost over $700.
We offer complimentary consultations, and we are happy to meet with you to discuss how much Botox will cost for you based on your needs and desires. Many of our patients have found that, in the course of a year, regular treatment with Botox costs no more than getting their hair and nails done on a regular basis.
While some practices charge "by the area," we think it is much better to charge for the exact amount of Botox a client needs to achieve their goals.
To help with the cost of your treatments, you may sign up for the Allē loyalty program from Allergan Aesthetics (formerly called Brilliant Distinctions®) prior to your first visit. At our practice, you can take advantage of the loyalty points, which are worth at least $20 for each Botox treatment, and more for fillers like Juvéderm.
*Note that these estimates reflect our pricing at the time of writing; prices are subject to change.
Eyebrows
Crow's feet
Forehead lines
Frown lines
Smile lift
Neck
Other
Eyebrows
Botox for an eyebrow lift: 2-5 Units
Crow's feet
Forehead lines
Frown lines
Smile lift
Neck
Other
Take a Virtual Tour of our Office
Sign Up for Allē to Earn Points and Save

Allē—formerly called Brilliant Distinctions®—is a free loyalty program that allows you to earn points and save on various Allergan brand products and treatments, including Botox, Latisse, Juvéderm and Natrelle. Members also receive notifications for special offers or events related to their selected interests.