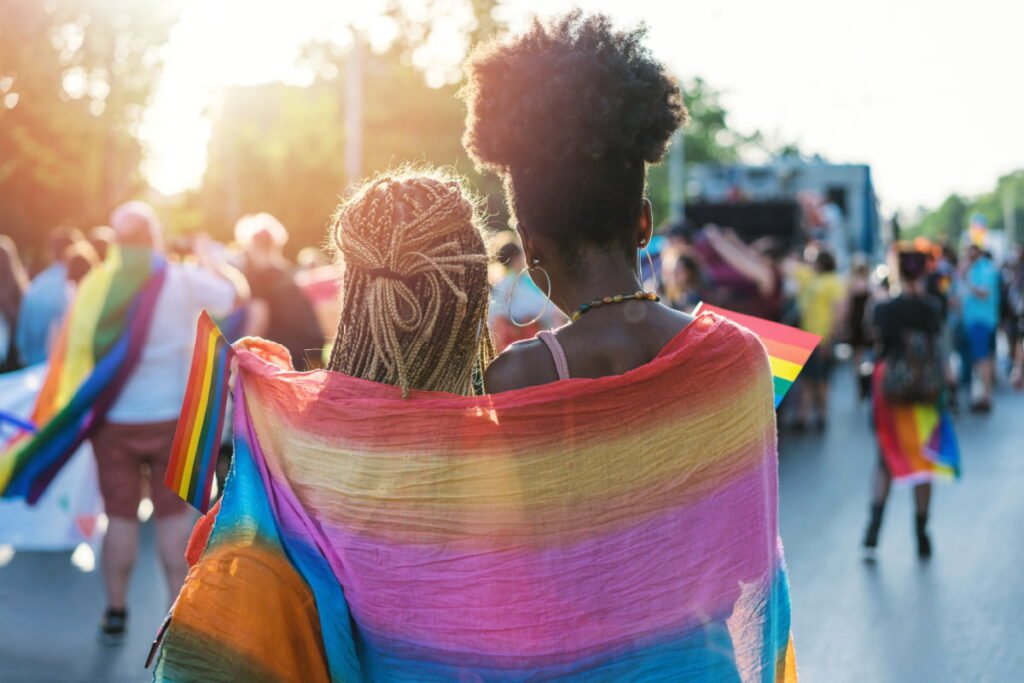 According to local advocacy group, Blue Ridge Pride, Western North Carolina is home to an estimated 35,000 people who identify as LGBTQIA+, including six thousand of these who identify as transgender or non-binary.
With others across the country, our local communities and businesses are donning their rainbow flags and flair for Pride Month, celebrated annually in the month of June to honor the Stonewall Uprising of 1969, an important turning point in history for the national gay rights movement.
Today, Pride Month is about living proudly, openly, and authentically to your fullest self expression—whatever that means for you. It is marked with festive traditions like parades, parties, concerts, educational workshops, and other events to recognize the impact that lesbian, gay, bisexual, transgender, queer, questioning, intersex, asexual, and gender-queer individuals have had in history, and in communities far and wide.
Now is the time to celebrate our local LGBTQIA+ community, but it's equally important to celebrate diversity and inclusion throughout the rest of the year. Here's the rundown on everything you need to know to show your support and stay connected to community in the "San Francisco of the South" year-round.
Support Local Justice-based Nonprofits
Asheville is an incredibly diverse community and over the years has grown to be a popular resort and welcoming relocation area for those who identify as queer. Unfortunately, our rural geography and historically-conservative population can still make it challenging for underrepresented or marginalized people (and the organizations who support them) to find support and safety they need.
Together we can create a more inclusive and welcoming community by educating people about our shared humanity. By donating your time, money, and resources we can build eachother up while also building a better future for all. There are many great charities and organizations dedicated to promoting equality and diversity through community service, events, education, advocacy and awareness. Here are a few of our local favorites supporting LGBTQIA+ rights:
Attend LGBTQIA+ Community Events & Celebrations
Community events bring people together to foster a more welcoming and diverse community. From Hendersonville to Haywood Rd and everywhere in between there are tons of great opportunities for our LGBTQIA+ community and allies to "come OUT in support of INclusion."
Check out the Blue Ridge Pride calendar for a complete list of year-round local events!
Support Gay-Friendly Local Businesses
Whether you identify as LGBTQIA+ or an ally, you can "spend wisely" by supporting those businesses who are committed to strengthening community through diversity and equality. The following bars, breweries and nightclubs regularly host drag shows or other LGBTQIA+ related events. Check out their online calendars or social media pages to stay in the loop!
The following local businesses are queer-owned/operated and welcoming and inclusive to ALL customers.
Want even more? Check out these other LGBTQIA+ -owned businesses or review this list of members of the Blue Ridge Pride Business Alliance.
Our Individualized, Whole-Patient Approach to Care
At Mountain Radiance in Asheville, we welcome LGBTQIA+ patients and offer a full range of favorite non-surgical medical spa treatments including injectable fillers, laser hair removal, skin renewal, custom facials, acne treatment, and more. We believe ALL people deserve to let their inner AND outer beauty shine.
It's key to find an aesthetic specialist you can trust—someone who is supportive of your gender identity, understands your medical history, and can tackle your unique skin care needs. Dr. Mark Chandler and his team of expert aesthetic professionals take an empathetic, non-judgmental approach to medical aesthetics and care. We provide a safe space for treating each of your cosmetic concerns and, through our fully personalized treatment plans, we can help you look and feel your best. 
Whether you're an Asheville local or just stopping through our charming city for Pride Month festivities, the Mountain Radiance team is ready to help you radiate confidence. Schedule a consultation online or call (828) 358-1757 today!