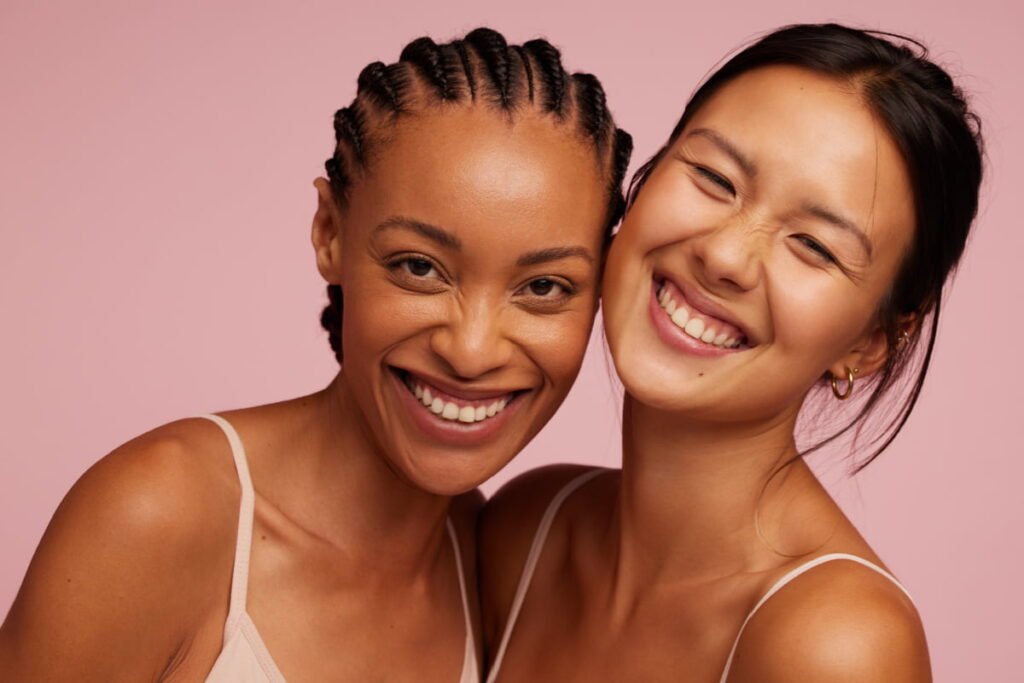 With BBQ and wedding season in full swing here in Asheville, NC, you may find yourself short on time⁠—but we have several treatments that can boost your appearance in a single appointment and have compiled a list of options that deliver results with little to no downtime! Take a look at what Mountain Radiance offers before your next event.
Dermaplaning
Dermaplaning is a great option to quickly refresh your skin and get an instant glow. This non-surgical treatment uses a specialized tool to painlessly remove the top layer of dead skin cells, ridding your skin of clogged pores, peach fuzz, and dullness. Not only will your skin look immediately brighter, this option will enhance the benefits of your skin care routine, create the perfect base for other facial treatments, and help your makeup apply more smoothly. Ask Brianna, our licensed esthetician, or Sarah, one of our Nurse Injectors, to add-on dermaplaning to maximize the benefits of any of our facials, especially in the summer months when other treatments may be sun-sensitive.
When to add it into your glow-up checklist:
There is no downtime following a dermaplaning treatment, though you may notice some slight redness for a few hours after the procedure—so if it is your first time, plan your session for a few days ahead of any big event. Let our expert aestheticians pamper you and leave your skin feeling renewed and camera-ready!
ProCell Microchanneling
ProCell Microchanneling is a procedure that stimulates collagen production and cell turnover. By creating tiny microchannels in your skin, this treatment prompts your body's natural healing response in order to flood the area with new cells. After just one treatment, you will observe a visual reduction in pore size, a more even skin tone, and increased firmness. This is another treatment option that, by opening up the skin, allows it to receive the most benefit from skin care products. It's also a wonderful complement to other medical spa treatments.
When to add it into your glow-up checklist:
You will see some immediate results from ProCell Microchanneling, however, your skin will also appear somewhat pink, as though you had a light sunburn, for 2-3 days, and results continue to improve as your skin's natural healing process takes place over a couple weeks. As such, it's a good idea to plan your Microchanneling treatment about 5 days ahead of any event. If time allows, multiple treatments at 3-4 week intervals will increase the benefits and provide a more substantial rejuvenating effect.
Chemical Peels
Let the skin experts at our medical spa in Asheville formulate a chemical peel specifically designed to address your skin concerns. This procedure gently removes the top layer of your skin to reveal the healthier skin underneath. We suggest the Illuminize Peel® for mild skin imperfections to instantly refresh dullness, minimize fine lines and wrinkles, and smooth uneven texture. Chemical peels stimulate collagen production and cell turnover so results are immediate but they also provide long-term benefits.
When to add it into your glow-up checklist:
The Illuminize Peel® is gentle yet it provides immediate results with no down time. There is no peeling or flaking of the skin with this formula! If you are new to chemical peels, the Illuminize Peel® is a great option to begin with and we can maximize your results with a repeat treatment after two weeks.
Massage
It's no secret that when you feel better, you look better! Massage therapy offers both short and long-term benefits that complement any glow-up routine. Our massage therapists Lauren and Chase can help you de-stress, manage pain, and support your overall well-being, making it a wonderful way to attend your next event feeling relaxed and rejuvenated. It's also worth mentioning that while just one massage can help you both glow up and wind down before an event, having regular massages increases the benefits you can experience.
BOTOX
Botox® is used to treat wrinkles caused by muscle movement. By relaxing certain facial muscles, Botox prevents wrinkle formation on the forehead, between the eyebrows, and around the eyes and mouth. It can also be used to enhance the neck and jawline, using a technique called a Nefertiti lift.
Another popular treatment is the Botox lip flip, in which a small amount of Botox is strategically injected at points around the mouth to help the lips appear fuller; a "gummy" smile may also be treated. In sum, Botox is extremely versatile, and most patients wanting to refine their appearance can find a way to benefit from it!
When to add it into your glow-up checklist:
You may see Botox results within a few days, but full results will take 2-3 weeks to develop as you wait for the lines created by muscle movement to soften. These results can last anywhere from 2-6 months depending on the area treated, and we will advise you on a schedule for treatment to maintain your best results long-term. The good news is Botox is relatively affordable, and you can take advantage of Allē's loyalty program which offers rewards and discounts.
Injectable Fillers
Juvéderm® is a hyaluronic acid-based dermal filler that is injected beneath the skin to quickly restore youthful plumpness as well as improve facial contours. This is the perfect option to quickly enhance your face, whether your goal is to smooth wrinkles, add volume to cheeks, correct under-eye troughs, or plump your pout. Mountain Radiance provides a full range of Juvederm products to achieve natural and long-lasting results. Depending on which formulation we recommend to meet your goals, results can last anywhere from 9 months to 2 years.
When to add it to your glow-up checklist:
Slight bruising and swelling are normal after filler injections, so it's best to plan your Juvederm filler appointment 2 weeks ahead of any events. You will get long-lasting results in just one visit, but first-timers may wish to allow extra time for a touch-up visit to refine your result and get just the look you want before a big event.
Also, be sure to choose your provider wisely—our nurse injectors Lindsey and Sarah use proven techniques to minimize side effects and help you enjoy your new look ASAP.
Need to look your best, fast? Visit Mountain Radiance in Asheville.
Our highly-trained team at Mountain Radiance in Asheville, NC is ready to help you glow-up now! Whether you have a specific treatment in mind or you'd like to schedule a consultation to discuss a range of options, we will design the perfect plan for you. Call our office at (828) 358-1757 or schedule your appointment online.